From Our Family To Yours.
What you're looking for, when you need it. Our knowledgeable staff and friendly team of butchers are here to help. We aren't know-it-alls, but we do know a lot: the best produce, the most delicious libations, the choicest cuts of meat, seafood and poultry. Along with stocking everything you need in bulk and for your pantry, and the ability to make you a perfect sandwich, a latte with luscious foam or restaurant-grade sushi, we feel confident that we have all of your needs covered. Gus's couldn't be more prepared to serve you.
Produce
Our produce section is just peachy – only more robust and less easy to bruise! It's the cornerstone of our business and we make sure it shines bright and colorful. We carry the selection of a major chain grocery and a local farmer's market at your local mom n' pop. We get fresh deliveries every day, so you can trust everything we carry, from a for apple to z for zucchini – the full complement of organic and conventional produce.
Meat, Seafood & Poultry
Gus's is especially proud of our team of meatcutters. We source humane, local, no antibiotic meat, because that's what we eat ourselves. With housemade sausages, freshly ground chuck, and seafood delivered fresh six days a week, you know the centerpiece of your meal is going to be spectacular – and sustainable – if it comes from our corner of the neighborhood.
Grocery
From the larder staples to the fun surprises, Gus's is committed to providing everything you need for a nicely stocked pantry. We supply what's hard to find, what's best from right around here, and our own in-house brand, Gus's – exclusive, top-of-the-line, and only sold at our stores. Stop in every day for old reliables and new, exciting tastes.
Deli
Let us cook for you. Everything we make, we pretend we are cooking for our own family. Next time you want you and yours to gather around a real, family-cooked meal, pick it up at Gus's. Plus, we make an incredible sandwich, because we carry all the best brands: Boar's Head, Molinari's, Saag's, Diestel Farms Ranch, Applegate and Imported Italian Meats – the gang's all here.
Cafe
You don't become a fixture in San Francisco without learning how to make good coffee. We've partnered with our friends at Andytown to create exclusive Gus's roasts for every type of coffee lover, available at all our markets and cafes. Each of our baristas are trained to get the best out of our quality beans. Sip our perfectly balanced beverages and chat with your neighbors, have a latte while you shop, or just drop by for a quick cup and a pastry – we get them delivered fresh daily from our favorite local bakeries. And of course stop by for daily happy hour from 3-7pm for half off beers!
Sushi
A Japanese dish, a San Francisco staple – we don't need to get our sushi delivered because we make the best sushi we've ever tasted ourselves. Our sushi chefs prove that life really is better under the sea.
Health & Beauty
We want you looking and feeling your best, and while that starts with what you eat, that's only the beginning. At Gus's, we have everything you need to retain that healthy glow, from vitamin supplements to natural beauty products. Look beautiful and feel confident in natural products that don't require a degree in chemistry to recognize the ingredients.
Beer, Wine & Spirits
It's written somewhere that wine maketh glad the heart of man. Beer does the trick too. And we pride ourselves in having one of the most diverse and expansive selections of bottles, cans and rotating beers on draft. From the most hop-centric IPAs to the sweetest ciders, from dry Rieslings to full-bodied Spanish Reds, from your go-to brews to exclusive release hype cans, we can help you liven up any occasion with exactly the right libation.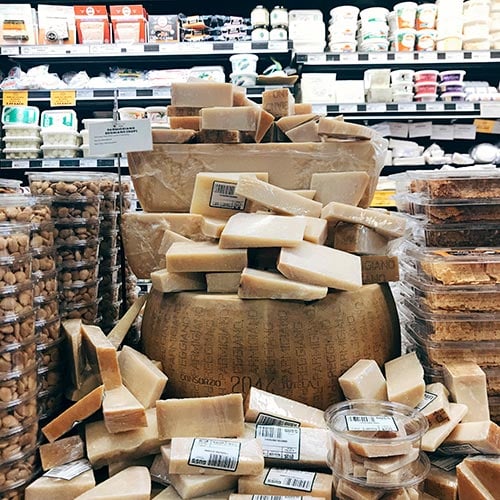 Cheese
Choosy about your cheese? So are we! With our large selection of small batch and seasonal cheeses, made locally and imported from around the world, we can help you put together a cheese plate or suggest something melty to set your macaroni and cheese apart. Our experienced cheesemongers are always prepared to slice you something delicious.
Flowers
Brighten up your table, your place, and your significant other's smile with any of our selection of flowers and bouquets. We have something in bloom for every price point, featuring organic and locally sourced varietals in all shapes and colors.